FREE EXCLUSIVE PesoExchanger T-shirts!!! for PesoE
(1 viewing) (1) Guest
Websites & Multimedia
TOPIC: FREE EXCLUSIVE PesoExchanger T-shirts!!! for PesoE
FREE EXCLUSIVE PesoExchanger T-shirts!!! for PesoE
7 years, 10 months ago
#558



( User )

Senior Boarder

OFFLINE
i'm posting this here because some of my clients and probably most are from wowsurigao.
More of the details here.
pesoexchanger.com/?p=421
As this is the season for giving, we are giving back to our clients FREE Pesoexchanger.com T-shirts.
We will be collecting name of those interested and your preferred sizes.
Submit your interest before December 16, 2011.
Please follow the instructions below to get your FREE PesoExchanger T-Shirt.
To submit your interest and preferred size, tell us anything about PesoExchanger.com's Services and write your FULL name and preferred T-Shirt size afterwards. Post this in our Fan page in Facebook. Go to
Peso Exchanger | Facebook
or Click here
Available sizes are only 18, 20, S, M, L, XL, XXL.
Your post should look like the sample below;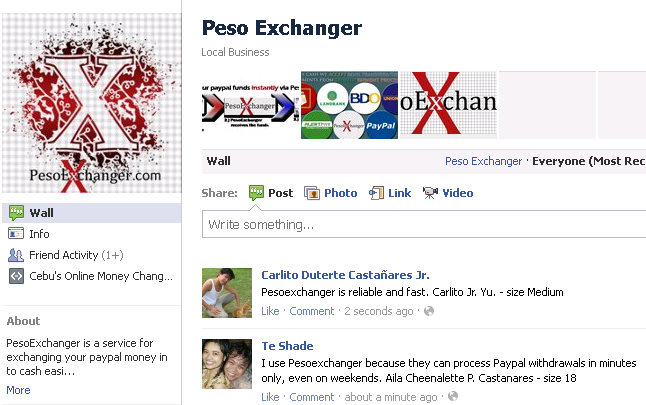 Here are the qualifications so you can get the FREE PesoExchanger T-Shirt.
- Your name must be on the list of clients below. We are only giving this away to our clients.
- We will soon announce how to get the T-shirts. Most likely this will be for pick up near our location in Santo Nino, Cebu City.
- For those who are not located in Cebu City but want to get their FREE Pesoexchanger.com T-shirts, we will help ship the shirt to you. You will shoulder the shipping cost only. Contact me via my mobile for more info.
- If you have used Pesoexchanger.com's services but your name is not on the list, please contact me. You should still be qualified to get your FREE Pesoexchanger.com T-shirt.
- If you are really interested in the Free Pesoexchanger.com T-shirt but not in the list below, please contact me.
Here is the list of those qualified to get the free Pesoexchanger.com T-Shirt.
Rhea Garbo
Ruth Chille Sunga
anna mae montes
Jefferson Ouano
Kelvin James Kho
Isadora Lim
Mary Shayne Sanchez
Marwin Almendras
Jose Gabriel Arboleda
Ritchie Matos
Rodulfo Arcipe
Jean Sipalay
JOSEPH ABELLAR,JR
joarc franz eseos
Hengerald Baguio
HEIDI SIMBLANTE
Lindey Fat
Mary Guenevere Cedeno
Angelie Piandong
Ma. Angelica Ong
Linnel Fat
Joy Maia Vecina
Joseph Juban
Alessandro Angel de Egurrola
Glenn Calamba
yvette dignos
cliff simblante
Janice Muaña
joseph abellar jr
Chris Sapong
George of GslashG Designs
Lindley Fat
Fortunato Licayan
Emilie Cabigas
Harjenny Fat
ma. remedios paunil
arnel tapia
Sandra Impoc
Rafael Acilo
Kristine Muslim
Park Warlette
Klarisse Vanessa Villamil
joyce anne mina
fe abilita celon
rosane, elizabeth lupague
Floyd Teogenes Mari
jose leo pacquiao
Gina Conahap
Mark Gallardo
Jiva das Bernardo
Cherry Mae Gabrillo
danilo pacaña
Felisa Credo
Mark Anthony Moreno
Jelson B Atillo
zandro oliver cabaral
jessie castolo
Siddha Bernardo
cheryl ann cabarubias
Adhara Amie Aubrey Tan
Rudith Villahermosa
John Roy Mag-usara
maris sipalay
Kristopher Warren Sabanal
Flaviana Garcia
Thessa Jane Palomares
Time to create page: 0.88 seconds